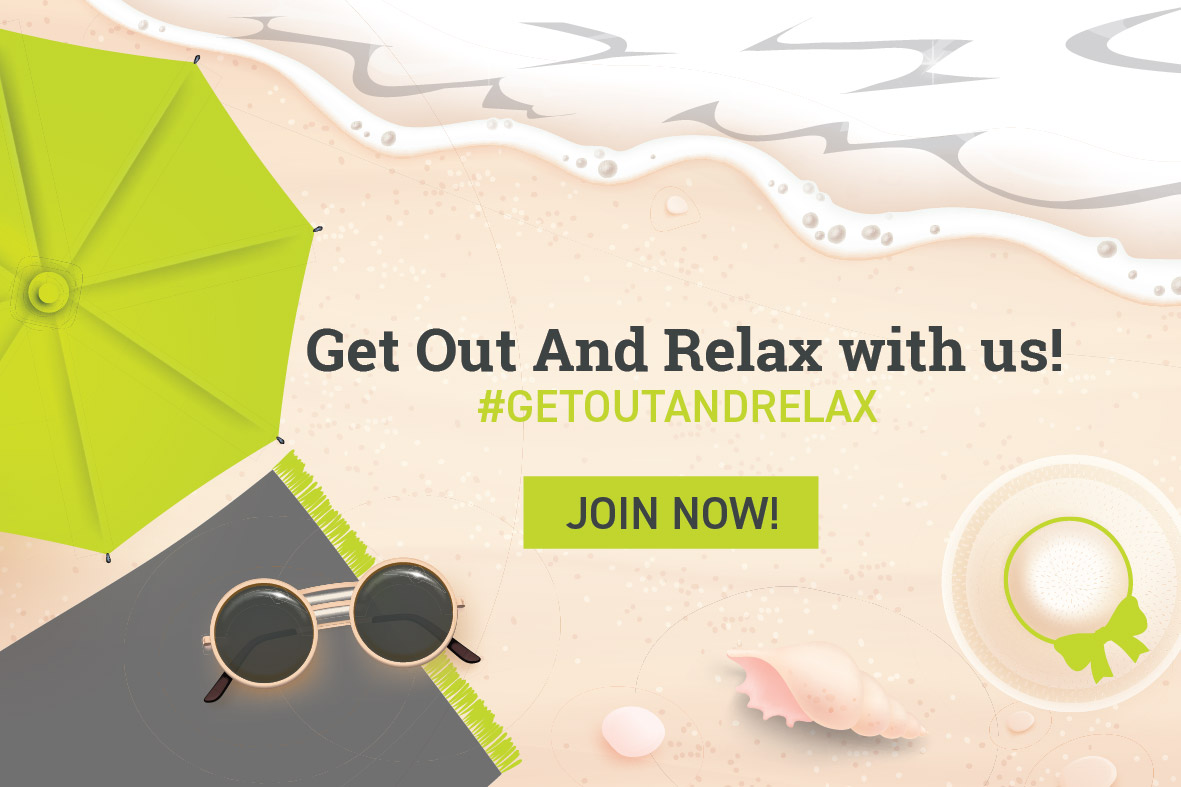 01 Jun

#GETOUTANDRELAX with us!

Two years after our successful summer campaign #GETOUTANDBIKE, and last year's #GETOUTANDMOVE, we launch our Kappa Data #GETOUTANDRELAX campaign! Our new sales enablement campaign for resellers interested in increasing their knowledge, perfecting their skills and welcoming new customers. The campaign starts now – June 1, 2022 – and runs until July 31, 2022.

And it's all about growing your business combined with relaxing, because we all need some relaxing moments, right? Discover all about our #GETOUTANDRELAX campaign!
How does it work?
Together with our vendors we created an unique set of high quality summer gadgets and fun enablement activities to help you grow your business… And relax of course.
If you need some relaxing moments, we got you! Kappa Data has fun activities for you. Participating resellers are rewarded for their time and effort! By engaging in sales enablement activities, you can earn points.
Subscribe to our campaign
By simply registering for #GETOUTANDRELAX, you immediately earn your first 100 points.
Earn points
You can start collecting today! With every demo appointment, vendor meeting, sales and PoC equipment bought between the first of June and July 31st, 2022, you can earn points that you can exchange for #GETOUTANDRELAX gadgets or activities.
You can find the catalogue online on the website www.getoutandrelax.eu.
If you have any questions, your sales contact at Kappa Data will be happy to give you more information.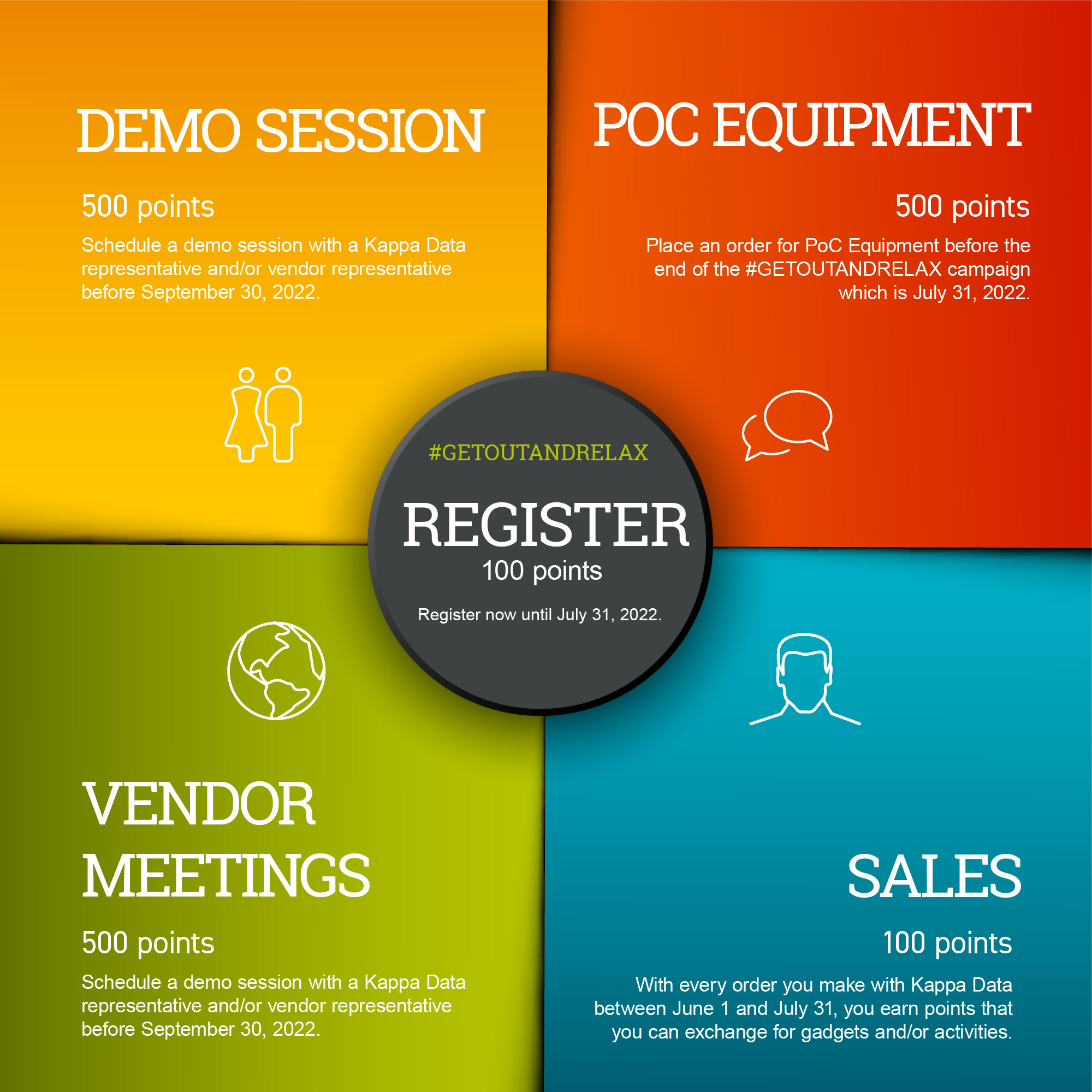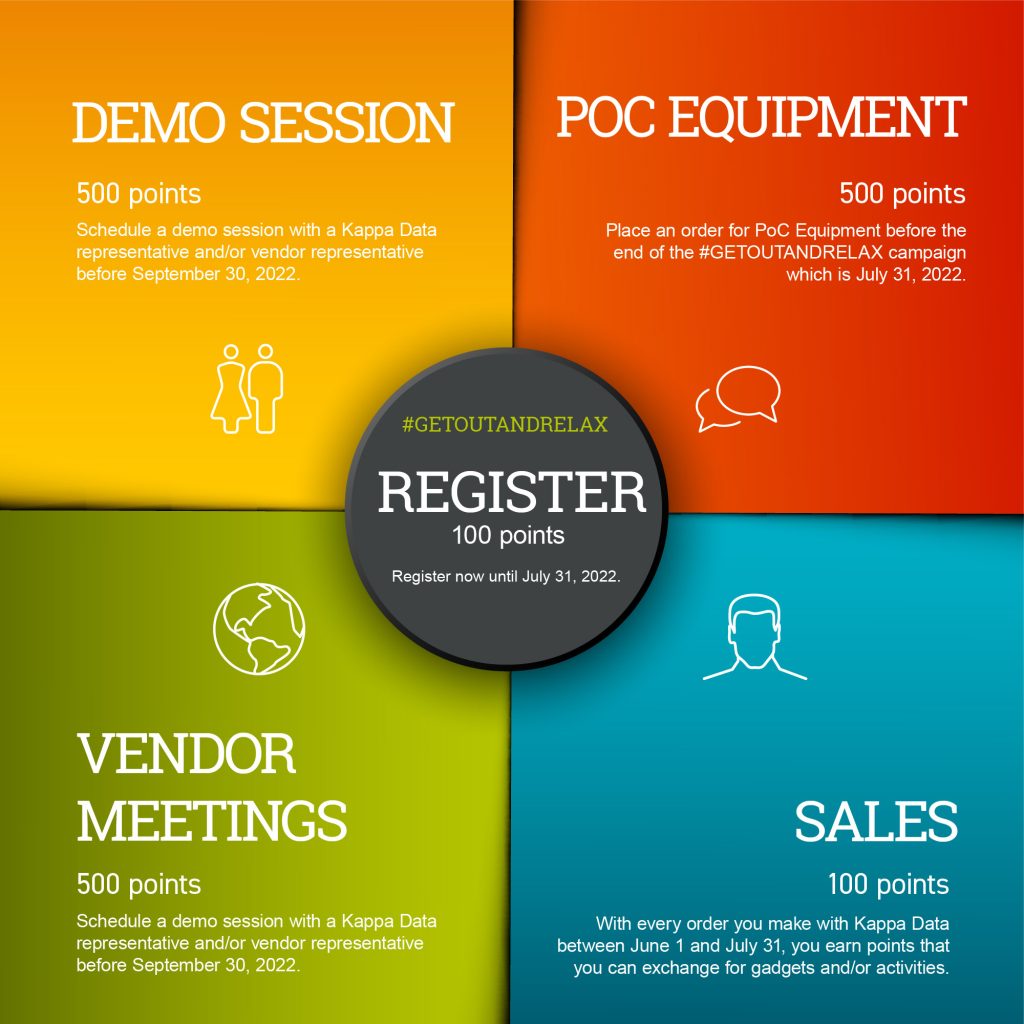 Claim your gadget and/or activity
Once you've earned points, you can choose your favorite item. At the beginning of each month (01/07/2022 – 01/08/2022), the subscriber will receive an e-mail from us with the collected points.
If you have collected enough points for the #GETOUTANDRELAX gadgets and/or activities you would like to have, just fill in the attached form and send it to [email protected]
Ordering is possible after you received your points (01/07/2022 – 01/08/2022). There is no limit to the number of items you purchase from each level, granted that you have accessed that level. Find more information on www.getoutandrelax.eu.
Join the community
Start enjoying and exploring your free time relaxing with your #GETOUTANDRELAX gadgets and/or activities. Enjoy our #GETOUTANDRELAX campaign together with our vendors.
Don't forget to tag us in your pictures during your relaxing moments @kappadata #GETOUTANDRELAX
Thanks to our vendors
We want to thank our vendors to make this #GETOUTANDRELAX campaign possible: Allied Telesis, Barracuda Networks, Juniper Networks, BlackBerry, CommScope Ruckus, Extreme Networks, Lancom Systems, Sophos and SolarWinds.
Do you want to participate?
Discover more about our #GETOUTANDRELAX campaign below and subscribe to our campaign!
See you at one of our relaxing moments!
Ready? Set. Relax!
Subscribe now to Get Out and Relax with us!